The Marselle Condomimium (website) quietly opened its sales center this week and will be hosting a public grand opening this weekend. Unlike other recently completed developments catering to upscale clientele, Marselle is positioned towards the first-time condo buyers market with prices starting from $150,000 for a 342 square foot studio. Though, most homes are priced from the low $200,000s to $400,000s, with larger two-bedroom homes heading up towards $900,000 for a 1,781 square foot two-level penthouse. Generally, price per square foot ranges from $335 to just over $500.
Marselle is comprised of 132 units with various layouts – studios, open one-bedrooms, one-bedrooms, one-bedroom + den, two-bedrooms, two-story townhomes and live/work units. Current pricing (as of 7/15/09):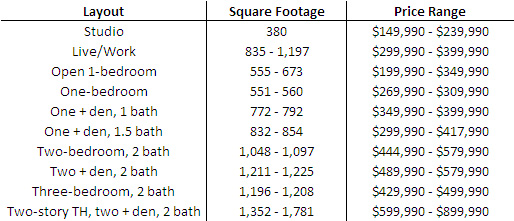 Homes feature natural walnut flooring, slab granite countertops, GE stainless steel kitchen appliances and washer/dryer, floor-to-ceiling windows, shaker upper cabinets and decks with most units. Portable A/C units are available as an option. Additonally, homes come with one parking space per bedroom and extra storage. Homeowner dues run about 35 cents per square foot and includes central hot water and a number of building amenities including three roof-top decks, a fitness center with a yoga studio, a billiards / community room and a small dog patch.
The homes are nicely finished and the quality of the work and materials belie the price point for Marselle. In fact, Marselle is reminiscent of the Matae Condominium, which was built by the same developer, Norcon/Sierra. The penthouse level townhomes are spacious with soaring ceilings, have better quality finishes and come with private decks.
Though the building is well insulated, traffic noise is quite discernible in homes that face Aurora Avenue, even with the windows closed. That said, there are two things to consider: (1) there are a number of condos that line Aurora Ave along Queen Anne which haven't been affected by their location and (2) eventually, Aurora Avenue will be lowered and the off ramp will be moved from Denny to Roy. The Battery street tunnel lid may be extended further North with a park on top, which will significantly reduce traffic and noise.
As of this writing, 10 homes are under contract and all homes are move-in ready. The developer opted to wait for completion before selling so buyers can see the finished homes. With financing through Cobalt Mortgage and underwritten through Frontier Bank, Marselle is able to close purchases immediately with as little as 5% down for a 30-year fixed mortgage. Rates are very competitive and mortgage insurance is not required.
As a bonus, buyers will not need to pay homeowner dues until 2011.
Marselle is located at 699 John Street (Google street view) with guest parking in the garage (via John Street); the sales center is open daily from 11:00 AM to 6:00 PM.