A second design review board meeting has been scheduled for the apartment development project at 1222 E. Madison, which is adjacent to Trace Lofts and Trace North. The proposed project is a 6-story 104-unit residential building with ground level retail.
The meeting is scheduled for July 1, 2009 at 6:30 PM at the Montlake Library (2401 24th Ave E).
CHS Capitol Hill Seattle had a good write up of the last design review board meeting held back on June 3rd.
Early design version:

Location, E. Madison at 13th Avenue: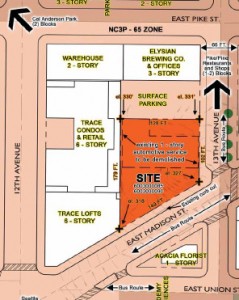 The project is has been proposed by Wallace Properties (507 Northgate & Taylor 28) and designed by Baylis Architects.
Images: Courtesy of Baylis Architects