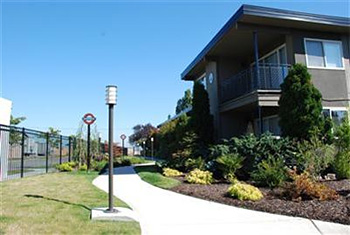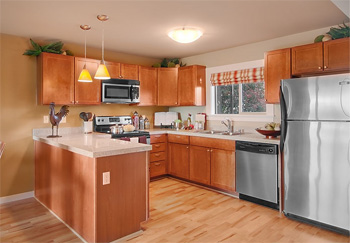 Newly refurbished, 27th Street Station is the latest condo conversion project in Tacoma. The sprawling complex contains 10 buildings featuring 87 homes (61 two-bedrooms, 22 one-bedrooms and 4 studios).
Currently, 21 two- and one-bedroom homes are available for sale and are move-in ready.
The two-bedroom units range in size from 750 to 800 square feet and are priced between $150,000 and $170,000. The one-bedroom units are 590 square feet are priced between $125,000 to $140,000.
Home features include:
Two color schemes – bronze or natural
Granite tile backsplashes and countertops
Frigidaire stainless steel appliances
Armstrong maple cabinets in Natural and Café
Hardwood, Frieze carpet & porcelain tile floors
Front-loading washers and stackable dryers
Patio or deck
Common parking areas
27th Street Station is a gated and landscaped community that's close to downtown Tacoma, the UW campus and I-5. The sales center (located across the street at 27th & MLK Way) is open Friday thru Tuesday from 11:00 am to 5:00 pm. A $4,000 buyer bonus is also available to those utilizing the preferred lender. For more info: www.27thStreetStation.com.