June exhibited a solid month for Seattle's condo market. Though unchanged from May, the citywide condo median price of $320,000 reflected a 6.7% increase over June of last year, marking the second consecutive year-over-year increase since December. In fact, most neighborhoods recognized value appreciation last month.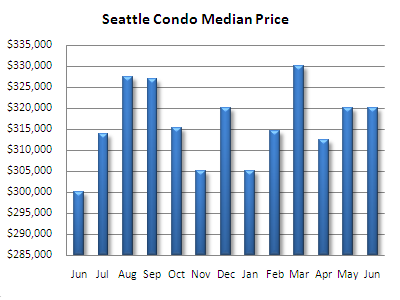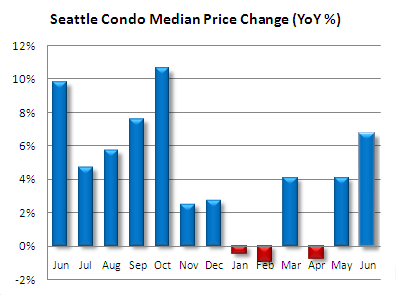 June figures also exhibited a 5.2% decrease in active listings compared to May. This is notable since we usually don't experience listing inventory decreases until the Winter holiday season. The good news, at least for sellers, is that the decrease in actives offset the slight dip in pending transactions which helped to stabilize the inventory supply rate. The inventory supply rate, or absorption rate, is the number of months it will take to sell the current inventory based on the rate of sales (pending transactions) should no new listings come on the market. This rate is used to gauge market conditions. At 6.3 months, Seattle would be considered a borderline normal/buyers market.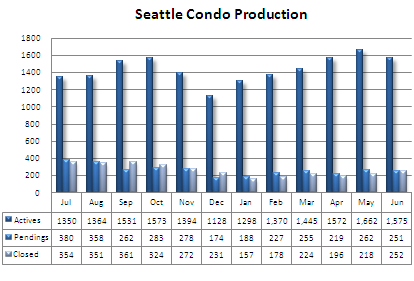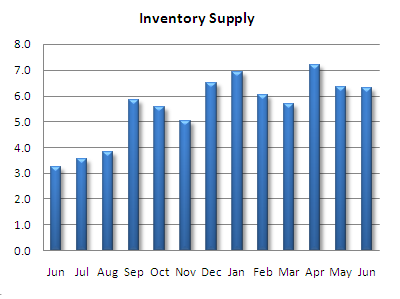 Based on the chart below, Queen Anne and Downtown would be a fairly solid buyers market, Capitol Hill & West Seattle a borderline buyers market and North Seattle a normal market.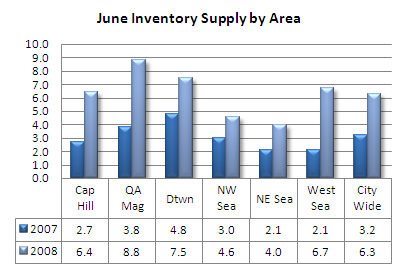 Going forward I expect more of the same – a stabilization of the market, or even an uptick in sales for July, based on what I've noticed and what I've gathered from speaking with other condo agents (e.g. multiple offers on well priced listings). Additionally, mortgage rates remain low, with ARMs still available below 6%. Speaking of mortgages, often overlooked are FHA loans, probably due to the fact that so few Seattle condos are HUD approved (about 318). However, lenders may be able to spot approve a building for FHA loans which are available up to $567,500 and only require 3% down.