2006 Condo Appreciation rates for selected Seattle neighborhoods as compared to 2005.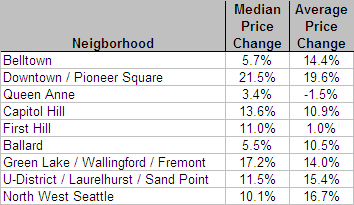 Overall, 2006 was quite healthy for Seattle condos and many people who sold their units did well. Though, Queen Anne, surprisingly didn't fare as well.
Notes:
Data compiled upon NWMLS sold listings.
Data does not include for-sale-by-owner or closed pre-sale activity that were not listed in the NWMLS (e.g. The 2200).
Data does not include current pre-sale pending transactions (e.g. Canal Station).
Information is deemed accurate but not guaranteed.